New Research Project for STVision
The R&D Project "PhotoEnco" is the development of a new generation of encoder discs for increasing demands in the market. Targets are simplified assembly without calibration, a higher resolution with improved accuracy, and a reduction of cost.
The PhotoEnco team consists of five partners under the leadership of Sick Stegmann. Responsibility of STVision is the development of visual inspection tools for quality control of the new generation encoders. This will guarantee good and constant quality production of the new encoders from the first day on. STVision was selected by the team, due to 12 years experience in the 100% inspection of glass and Nickel encoder discs.
The project is scheduled for three years, beginning in June 2016.

The project is financed by the BMBF
(Bundesministerium für Bildung und Forschung)
DLC Crack Inspection
May 2016
STV has developed a vision system for the detection of micro cracks on DLC (diamond like coated) needles for Diesel injection nozzles. The needles are the valves of Common Rail Diesel Engines, used everywhere across the world.
Micro cracks occur randomly in the manufacturing process. They are almost invisible and extremely hard to detect. STV has developed a method for safe automatic inspection. The system executes crack inspection within 2 sec cycle time by means of special optical illumination, specific filtering in software, and defect cluster analysis.
The micro cracks can cause certain failures of the Diesel engine injection control, due to incomplete blocking and leaking of the valves. Bosch now uses this system in the 100% quality test of their diesel nozzles.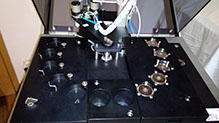 —
inspection system of steel needles with DLC (diamond like coating) surfaces for general surface defects.
New generation optical inspection system for power shunt resistors with new generation cameras with higher resolution and speed.